Description
Quick Description
Our Seduction phono preamp (and its replacement, the Reduction) kits have been making sweet music in audio systems for over fifteen years. It was designed to work with the original Bottlehead Foreplay stereo tube line stage and the combination of the two has become part of many a fine vinyl playback system. After the Foreplay was retired, we felt the need for a phono preamp kit designed to an even higher sonic standard. And so we offered the Eros, a new phono preamp with higher gain, better signal to noise ratio and hybrid shunt regulation. That circuit has proved to be one of the finest phono circuits available, and so now we have taken a few lessons learned over the intervening nine years to make it even better with Eros 2!
In Depth
What's different?
Oh boy, we were hoping you would ask! Here's the rather interesting development story –
When we were working up the Seduction phono preamp design in 2000 we tried several different circuits that Paul Joppa had cooked up. One of those was a direct coupled EF86-to-6DJ8 circuit, a very simple design with a unique passive RIAA eq and a very basic power supply. Up against the equally simple Seduction circuit that used a 6DJ8-to-6DJ8 design, the circuit was deemed too tubey and dull sounding, and so the simple all 6DJ8 circuit was the design we developed into the Seduction kit.
Somehow that breadboard EF86/6DJ8 phono preamp prototype managed to avoid being scavenged for parts for other projects, and over the years it was given a shunt regulated power supply and eventually C4S active loads were made to work in it. The result was a dramatic improvement in performance with just the right balance of open highs, smooth midrange and bass punch. Once upgraded like this the redesigned circuit seemed to stay in our reference system in place of our best Seduction. From there the circuit was further refined and used in our $4000 Tube Repro amp for tape playback, and also put into a custom built phono version of the Tube Repro. The Eros is a direct descendant of that top of the line phono/tape preamp, streamlined to be cost effective and easy to assemble without sacrificing sonics.
There are a number of changes from the Seduction design. The input stage is now an EF86 pentode rather than a 6DJ8. The EF86 is perhaps the finest sounding low noise pentode made, being used in some exceptional microphones. At low signal levels like those of phono cartridges and tape heads the high gain of the tube can be taken advantage of without the sonic penalties often associated with the use of pentodes in higher power amplifier circuits.
Our unique use of the C4S constant source on this pentode offers a high level of isolation from power supply noise that might otherwise be amplified by the high gain tube, resulting in an all tube phono preamp with great resolution that can work with medium output cartridges without adding excessive noise. A servo circuit on the cathode of the EF86 accommodates production tolerance variations of various brands of EF86s and 6DJ8s, keeping the operating point at its optimum.
The power transformer is our own Bottlehead PT-11, a new low noise design made specifically for the Eros. It is the same design as the PT-5 from the original Eros, but has a universal primary to be configured for overseas use. The hybrid shunt regulator provides separate high voltage regulation for each channel and gives the Eros an added sense of speed and a sense of frequency extension that exceeds that of Seduction. The heaters are also regulated.
Gain is up from the Seduction's 40dB to 50dB. This extra gain allows easy use of high output moving coil cartridges into the 1mV range. In fact, while we don't recommend it, we have used the Eros with LOMCs in the 0.3mV range. For LOMC cartridges we suggest the use of a step up transformer in the 1:5 to 1:20 range to keep noise levels and impedance matching optimal. Mounting holes are provided next to the input jacks to mount step up transformers internally, if desired.
The chassis is 8″ x 12″ laser cut .080″ random brushed aluminum – big enough to accommodate the two extra tubes, a bigger, more quiet power transformer and easy to stuff PC boards for the circuitry that doesn't carry audio signals. The wood base supplied is the same beautiful Pacific Northwest alder as our other kits, which you assemble and apply your favorite finish to. The kit is supplied with two EF86 tubes, a 6922 tube and a 12AU7 tube for the regulator.
What's New in Version 2?
With over a decade of experience in building, repairing, and providing technical support for the Eros, we have dealt with the conundrum of having an excellent sounding kit that we didn't want to change but that was a bit difficult to build and service. To greatly simplify the building process, we designed a new PC board that contains all of the active loads and the biasing servo for the signal section of the Eros. We enlarged the chassis plate to provide more working space, and we designed a new universal power transformer to work better on a wide variety of line voltages. We also added mounting holes for moving coil step-up transformers in an optimal location.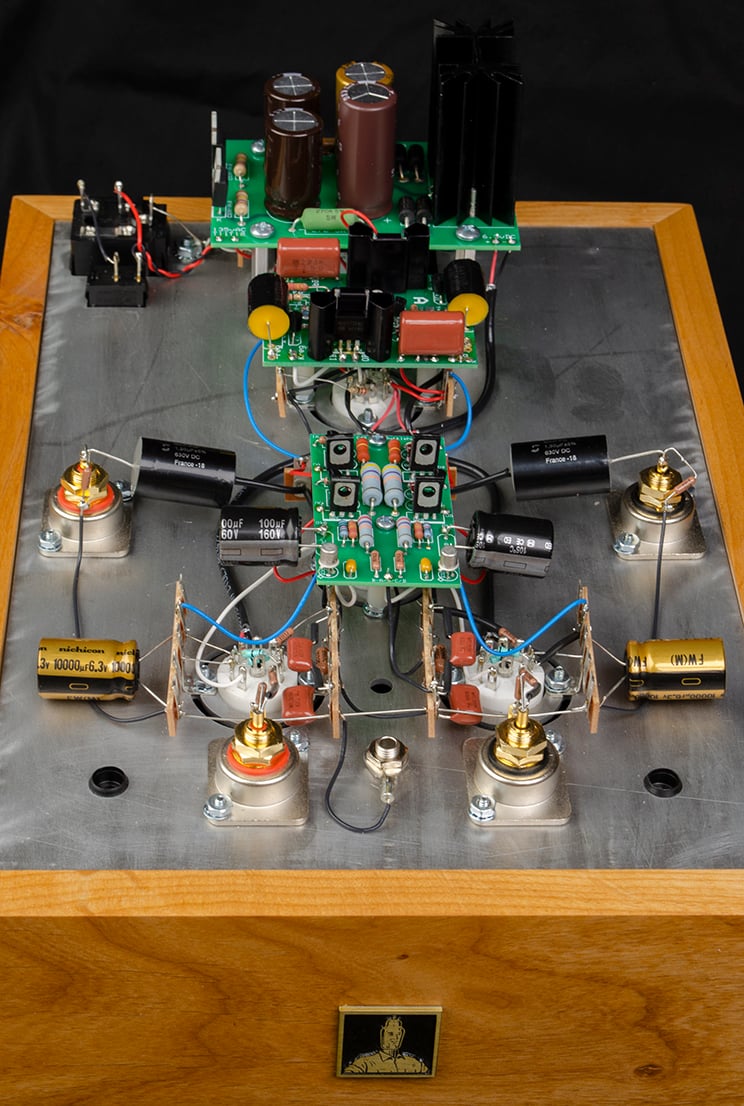 Components
Signal wiring is all point to point with Teflon insulated wire and solid core shielded twisted pair cable. The power supply is easily assembled on PC boards. It is an efficient Schottky rectifier supply feeding dual active loaded hybrid (12AU7/LM431) shunt regulators in parallel with each channel of the preamplifier circuit. The DC heater supply is a full wave bridge of super quiet Schottky rectifiers feeding a Linear Technology regulator. Each channel of the preamplifier circuit is a C4S isolated EF86 voltage amplifier direct coupled to 1/2 of a C4S isolated 6DJ8 voltage amplifier, with the passive RIAA equalization network positioned between the two gain stages. Only one output coupling capacitor is in the signal path of each channel – a metallized polypropylene type. Resistors are a combination of high quality metal film, and carbon film, each chosen for optimal performance in the intended application. Filter capacitors are overrated for long life. Tube sockets are high quality ceramic with aluminum shields. A ground post is provided for phono cable and turntable grounding.
Performance
Gain is 50dB
Input impedance is 47K ohms
Output impedance is 4K ohms (a preamp of at least 15K input impedance and interconnect cables of 1 meter or less are recommended, naturally we recommend the BeePre 300B Preamp as a perfect match for the abilities of the Eros)
Phase is not inverted
Because of the varying levels of phono cartridges, a S/N ratio figure cannot necessarily tell you how the preamp will behave in your system. The Eros was designed to have 10dB more gain than our Seduction kit, and it may be more suitable for high output moving coil cartridges and moving magnet cartridges with an output level as low as 2.5 mV. We recommend the use of a step up device with the Eros when using low output moving coil cartridges. In the lab we typically measure a noise floor of 0.7Vrms and is dominated by "1/F" noise from the tubes themselves. What this means is you can usually hear a little tube hiss only if you turn your preamp volume up way beyond tolerable listening levels.
We consider this kit to be Skill Level 3. It has a lot of parts, requires stuffing several PC boards and will take some time to complete, probably at least a couple or three evenings. A beginner who wants a challenge and is willing to take their time can complete the kit too. A very thorough assembly manual is included in printable Adobe PDF format as a download made available once the kit has been purchased. It contains step by step instructions you check off as you go, detailed photographs of the assembly that can be blown up for great detail, and a detailed checkout procedure, along with tips on soldering and tool selection. All the builder needs to supply is solder.
Impressions
I am sharing this experience for those who are considering building the EROS.
I'll start by saying that in the system I'll be using it, the EROS is the single cheapest component. The turntable (Rega RP6), the Amp combo (Naim 72/hi-cap/140), the streamer/DAC (Auralic Aries / Vega) and the speakers (Larsen 6.2) all cost at least 2X-5x at minimum it's price.
I have been using the on-board Naim 72 phono board in the pre-amp, and I've been annoyed by the fact my streamer/DAC streaming Tidal sounds better than my records – as that demotivates me from playing records – despite the fact I prefer the ritual of record playing.
Enter EROS. After, well, 15 minutes of warm up and no prior burn-in, using cables half the price my streamer combo (for now) I can confidently say, records sound better than the digital chain.
EROS brought a new level of transparency, delicacy, depth and expansiveness to the sound with all my records. From Nils Frahm and Talk Talk, to '50s blues records or HipHop. It also brought a focus to all the voices on records with both female and male voices that previously was missing.
Records + Eros + Rega RP6 with $50 interconnects beat Auralic Vega + Auralic Aries + $300 cables.
Glowing Tube magic: 1 vs Cold Bits: 0
Thank you Bottlehead team and the community who commented and helped me build it.
Can't wait to build more glowing tube things from Bottlehead.
-arisrock
Well the Eros was singing beautifully all day yesterday – I tried a lot of Genres: Jazz, Vocals, Pop, Classic Rock, Classical (chamber music and orchestral), Blues…
I had the Seduction in the system for a long time and some of the initial things I'm hearing are the shock of the new.
But, Wow. Very happy. The Eros seems to have more bounce and dynamics, better, cleaner bass, and more inner detail than the Seduction. I expect a lot of that is the MUCH better power supply in the Eros, since it looks like Paul Joppa has mad skills at RIAA.
Especially good moments: Nina Simone 'Little Girl Blue', Eagles 'What Kind of Love Have You Got', Holst 'Mars', …
-pRC
Impressions so far…WOW. This thing sounds amazing. I've been mostly listening to new music that I've been accumulating while building the Eros, so it's hard to do much A:B comparisons, but I did go back to a couple of old favorites and have been stunned at the sound.
Only question that remains is how long can I hold off before ordering the BeePre… 🙂
–dave-tx on the Bottlehead Forum
I trashed the Shunt regulator board and Eileen was great on getting me replacement parts. I received them last week and was finally able to complete my Eros build today. Everything checked out and I fired it up like Doc recommends in the instructions. Impression…… Wow!!! The soundstage is huge, both breadth and depth. The bass is much tighter and deeper. Overall everything is just so much more focused. I have listened for 2 hours and am really impressed.
I can't wait to couple it with the BeePre I have ordered. I think it is going to be really outstanding compared to using my FPII with every mod. Any feel on when the BeePre is going to be shipped??? Not that I am anxious or anything.
Thanks Doc, Paul, and Eileen. You have allowed me to take my LP listening to a new level.
Richard
–rockpassion on the Bottlehead Forum
Dear Bottlehead folks,
Just wanted to let you know how impressed I am with my new Eros phono stage. I built the Eros to replace my budget tube phono pre (Bellari VP 130) and, in short, the sonic difference in my system is night and day. Even without a burn-in period, the Eros has highlighted all the strengths of my current setup (Pro-Ject Debut TT with external PSU and Ortofon 2M Blue, Ayon Orion integrated valve amp, and PSB T6s). The gain is awesome, the sound is better in every way (I'll spare you the hi-fi jargon), and, most noticeably, my system is dead quiet now. I hadn't realized just how much extra hum and interference I was putting up with before the Eros. I would definitely recommend this kit to anyone. The build is tedious but fun, and the result is beyond rewarding. Thanks for a great product. And thanks for shipping the parts that were missing from the kit in such a timely manner.
Happy new year,
Mike
—
Michael McGriff
Founding Editor
Book Drive for Rural Oregon Libraries and Tribal Libraries
Posted by Air on March 29,2010 23:21:50
It has taken weeks to get my system back together (with addition of a new Eros). the system has been running off a digital feed from the cable company with the occasional record to get the Eros in the system.
Well I am here to tell you sports fans" we are back in the game!" After about ten records I can really appreciate what an upgrade the Eros is. if you are sitting on the fence I can promise this is a major step forward. -Cheers, Chuck
Posted by Brillo on March 31, 2010 17:15:10
I really, really like the Ace. I have about 6 hours on it now, and maybe 8 on my Eros. Both will get better from here, and honestly that's hard to grasp given what I hear at the moment. Eros is dead quiet. I'm super pleased.
Posted by Bryon on September 02, 2009 at 16:02:05
I have upgraded and loved my Seduction to bits for years but it was blown away by the Eros as soon as I put it in. I have about 40 hours on my Eros at this point and plan to write a comprehensive review after it has had a chance to burn in a bit more.
Depending on your budget, you can't go wrong with either the Seduction or the Eros.
good luck
Bryon
Eros Mini Review
Posted by Grainger49 on July 15, 2009 at 03:21:55
I had the Eros in my system a very short time. Sadly it went home with Paully.
I haven't finished my Seduction Power Supply rebuild and I already want to get the Eros.
The difference in volume in my system was a quarter turn on the volume pot. After all the posts about noise I decided to give this a look. I had to turn the volume up much louder than I would have dared listen before anything could be heard from the Eros. But I only have 94dBW speakers. I know a lot of you have much more sensitive speakers.
And the sound, yes, more highs and lows. Bass tighter, and the soundstage ~ ! ! ! You guys know I'm a soundstage junkie and that is what is going to make me hit the purchase key.
Instruments had greater "Body" than before. I first noticed this improvement when upgrading with MQ iron. But the Eros makes it so much more dramatic.
Doc and PJ have outdone themselves to bring this level of performance at such an unbelievably low price.
Congratulations to all involved in this project at Bottlehead!
Edit: I should have mentioned detail. Sorry, the detail is exceptional.
Eros listening impressions
Posted by vetmedrobert on June 26, 2009 at 09:22:15
This is a wonderful sounding amp and worth every penny. I had been listening to the Seduction with c4s which to my ears was going to be hard to beat.Well Eros does it in spades, better extension at frequency extremes, imaging is terrific, and sharp transients handled with ease. Thanks to Doc, Eileen and all the rest at Bottlehead for a terrific product.
Eros impressions
Posted by crgolfer on June 09, 2009 at 15:50:33
I just tried comparing my Seduction with my new Eros. I only needed to listen to one cut (Radiohead OK Computer) on both the Seduction and Eros to conclude that the Eros is a significant improvement; the sound quality was so much better that I don't plan to do any further comparisons.
I have listened to a few albums with the Eros now, they all seemed to sound more transparent/detailed, with better low and high end extension. I agree with an impression posted earlier, "In comparison to the Seduction highs and lows are extended, midrange is cleaner and more dynamic, and I found it much easier to follow individual instruments.
I expect that the sound will improve as the Solen caps get some time on them and when I replace them with some Vcaps that I have.
Eros – initial impressions
Posted by jb0194 on May 13, 2009 at 21:26:19
Spun about 3 hours of music through the Eros tonight.
Well worth the upgrade from the Seduction, even fresh from the box.
Bass definition and tonality first caught my ear, but very balanced overall.
Soundscape is clearly wider and deeper than the Seduction presents.
Voices are rendered with great realism.
Dynamic recordings explode from the speakers (Adrian Belew's "Twang Bar King" – my daughter's chihuahua jumped a few times on that one).
Congrats guys, you really whipped up a good one!
jb
The Eros has been operating in my system for several weeks, probably about 45 hours of vinyl time. I couldn't be happier. The Girl Friend who loves music and has a great ear says she is hearing nuances that are new to her in pieces she's listened to for years.
adeep42
To say I am enjoying the Eros is a massive understatement I think it's just a fabulous bit of kit the sound is super clean, detailed and just so immersive. I'm spinning loads of LP's, Sex & speakers during early evening and later when the rest of the house sleeps I switch over to the Mainline which is fitted with RTI 10uf teflons the resulting combination of Eros, Mainline, Jico SAS with the HD800s I think is a pretty special combo, holy smoke does it dig deep into the groove. Its a great way to chill out after a busy day.
JamieMcC
I'm a fan of the Eros. It has a sonic signature that I've not been able to get with other stages. It sounds great, is reliable and has readily accessible tubes. Best of all it's supported by the BH team and community. If you are in the market for a phono stage, I highly recommend the Eros.
johnsonad