Description
Quick Description
If you know about Bottlehead you probably know that our most successful kit for many years was the Foreplay preamp in its various iterations. As good as that preamp was, Doc and PJ set off on a year long adventure trying out different preamp circuits to see if we could do better. One of the main goals was to produce a single gain stage tube preamp with a low output impedance (as close as possible to the classic studio standard of 500 ohms) and gobs of drive, that didn't use a cathode follower, an output transformer or global negative feedback … (see 'In Depth" below)
In Depth
This limited tube choices to a very few. We came up with some really nice sounding preamps based on the 6AS7/6080, the 7233 and the 6EW7. One day when listening to them the conversation moved to how amazingly good our little Quickie directly heated triode preamp sounded, and the quest began for a great DHT that would fit our other requirements. PJ reasoned that a 300B run at the right operating point could have a nice low output impedance, even lower than Foreplay III. And so it was decided to build a prototype 300B preamp. To cut to the chase, the result was the best we had heard. Several Bottleheads stopped by over a few months to give the prototype a listen and response was a lot of "Wow!" type comments.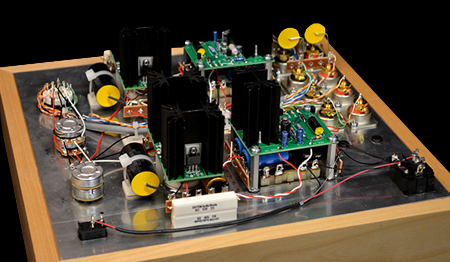 Now getting a 300B to operate happily as a preamp tube is no mean feat. It takes a very quiet and well behaved high voltage power supply and a super quiet filament supply. The 300B is so dadgummed linear that every other part of the preamp needs to be of a very high sonic caliber too. We started with a completely separate power supply for each channel. We added our tried and true active loaded hybrid shunt regulator, one for each channel and each using an EL84. And we used our C4S active load on each 300B plate as well.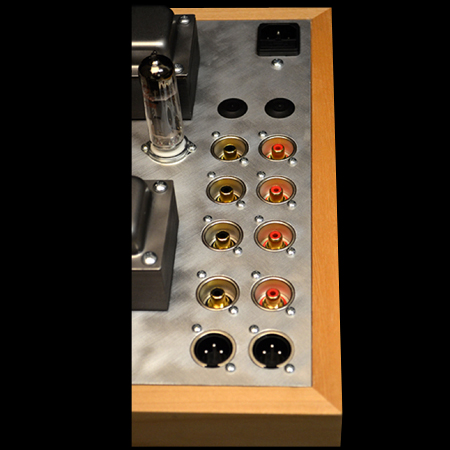 The filament supply is shunt regulated DC with a rather sophisticated "noise shunt" that keeps down the self noise of the regulator – a critical issue in keeping directly heated tubes quiet enough for low level signal use without having to employ output transformers or feedback to hide the noise. Over the years we have received requests for balanced cable connections. We give you three inputs, one of which can be reconfigured from the stock RCA jack to an XLR jack that can be combined with aftermarket balanced input transformers. And we give you two sets of outputs. Either or both can be configured for single ended RCA or balanced XLR output. The black plugs you see in the photo below can be removed to expose mounting holes for your favorite thread mounted input transformer. Another feature that has been requested over the years is a balance control. The BeePre comes with a stereo volume control and a balance control. And we also offer BeeQuiet, a great sounding coarse and fine type of stereo stepped level control upgrade, with an impedance designed specifically for use in the Bee Pre, with thirty-six 1.5dB steps that will replace the volume and balance pots for those who prefer stepped controls with high quality rotary switches. The chassis on this one is a bit bigger than our other preamp kits at 12″ x 12″(30cm x 30cm). Weight is about 12.4 lbs (5.6kg). 300Bs are a heckuva lot bigger than 12AU7s and there's a lot of nice stuff under the hood including some D style Neutrik jacks that need some extra chassis acreage to fit. And there will be room for your favorite big ol' boutique capacitor upgrades too. We provide the usual high quality level of American made transformers, an American manufactured chassis panel with our cool new random brushed artisanal finish (a nice thick one at .100″) and lovely Pacific Northwest milled alder wood base. Resistors, capacitors, sockets and other parts are all the same quality level as in the matching Kaiju 300B amplifier.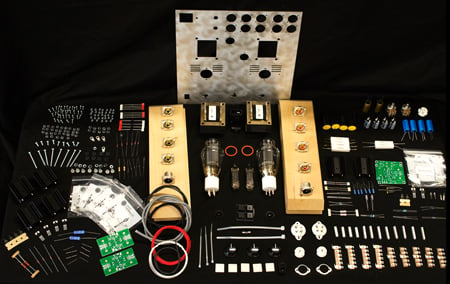 Performance? Input impedance is 56K ohms with balance control centered. Output impedance is 500 ohms single ended and 1000 ohms balanced. Gain of our prototype at 1kHz measures 8.3dB. Frequency response is within 1dB from 17Hz to 30kHz. -3dB points are 7Hz and 70kHz. Noise level will depend upon the brand of 300B you choose, but our prototype's S/N measures -91 dB at +4dBu output. THD measures 0.065% at 1kHz at 2Vrms output. Maximum output before the onset of clipping (which presents itself as a very gradual rounding of the sine wave trough) is 18Vrms. We even provide silicone dampers that fit under the 300Bs to help reduce microphony of the directly heated tubes, something we find to be a small compromise to make compared to the huge sonic benefits DHTs can offer. EL84 and 300B tubes are included at the kit price of $1175. For the sake of comparison the most well known 300B preamp out there today retails for $5850. No kiddin'.
Impressions
I have been listening to my BeePre already for a couple of months. There's a thread of my build and some of my system so I won't bother you with that. I've listened to it extensively and carefully. I've taken it to other very high resolution systems that I know well. The BeePre is the most amazing piece of audio, period. It will make any system sound better. More body, more resolution, more speed and a better flow to the music. I have friends with good systems and good ears. We often have different opinions on what we like. They are all babbling for the BeePre. I've said before that, on paper, it is amazing. In real life it is better yet. BH keeps raising the bar.
—xcortes, on the Bottlehead Forum
Time for some initial listening impressions. First off, I had an interesting start but after a phone call to Dan everything was sorted out. System synergy is different for everyone and I ran into the perfect storm of 100dB sensitive speakers and a very high gain SS power amp (old Quad 303 at the moment) with the BeePre. My system needed a Lpad in front of the power amp to lower the gain.
I've only got around 30 hours on the BeePre but from the beginning it sounded great and continues to improve. It must be the DHT magic as I find myself mesmerized by the sound coming from my speakers. The best way I can put it is that the BeePre has added a sense of realism and greater emotion to my listening experience. It images very well, has wonderful tone and a blackness between notes that I appreciate.
The BeePre continues to impress! It's new and I hate to comment too much on new parts of the system until I've grown accustomed to them but it really is an amazing preamp
–johnsonad on the Bottlehead forum
I finished the assembly of my BeePre this evening, completely stock. The manual and packaging were great – assembly was a breeze, with no post-assembly hardware debugging required. I still need to finish the base to match my Eros. I'll get to that eventually I suppose 🙂
The Bee is replacing an older Denon AVR that I was using as a preamp between my Eros/Squeezebox/TV and a Rotel solid state power amp. New hotness fit in my rack – barely! I actually had to remove the damping o-rings and couldn't use any damping feet. So far I've only listened to it along with the Eros. Spun on a few records, and…
…in a word, brilliant. I was expecting at least some increased detail and clearer soundstage (based on my previous Eros upgrade experience) but am still really surprised by how much my system improved. History seems to repeat itself…just like when I hooked up my Eros I once again feel the need to re-listen to most of my record collection.
Thanks for offering another great kit!
–jaggy, on the Bottlehead Forum
I'm now listening to the BeePre, late at night. It's very soft, and quite pleasant. The level is 38-70 dB SPL. I'm playing Blue Coast Collection in DSD format through Korg/AudioGate software to emu 404 usb to BeePre to Paramount 2A3 to vintage Klipch LaScalas. The Paramounts have the soft-start upgrade and an L-pad on the inputs. The previous pre-amp was an extended foreplay III.
While I thought the foreplay III was excellent, I think this is a step up. The background noise is completely absent. The voices sound even more alive. The guitar strings sound like I'm listening to my 9 year old son practice. The background instruments sound clear, distinct, and balanced in a way I have not noticed before with this recording. I've never enjoyed this music this much at this low a level. I can't wait to listen at louder levels.
-Dave
Doc I found the problem, you were right I had a wire out of place. Fixed the problem and everything checked out. I am listening right now and all that can say is wow!!!. Clarity and depth to the sound stage, my system always had decent breadth to the sound stage but it was not real deep, it is now. And the clarity is stunning. I am listening to Cowboy Junkies Trinity session on CD and there is more detail than I have ever heard before. Lastly, it is phenomenally musical. With the balance I can dial it into fit the room much better than before.
I bought the sorbathane feet you recommended. I will post the details of what I hear when I get them. While the kit was the most complicated kit I have tried your instructions were fantastic. The pictures really helped in some cases. Good job to you and your crew. To anyone building or wanting to build this kit just take your time and double check your work. No matter how good the instructions are it is amazing how you either misread, misinterpret, or simply make a mistake so take it slow and you will definitely be rewarded.
Thanks again for the wonderful kit and product. You have made my week.
Richard