Description
Quick Description
The S.E.X. 3.0 Kit will run any dynamic headphones – even AKG K1000s & Audeze LCD-2s – to great effect, and with two watts per channel power output it can also drive efficient loudspeakers. The updated S.E.X. Kit has the following improvements:
The big update is that we have changed the tubes used from the now difficult to find 6DN7 to the 6FJ7. The 6FJ7 is the same tube in a different glass envelope designed to fit in a Compactron socket. Same great sound, but in a tube that isn't being gobbled up by our competitors who have (finally) caught on to the great sound of the 6DN7. The other significant changes are a new universal power transformer, new heater circuit wiring for exceptionally low noise operation that allows use even with sensitive IEMs, and an improved assembly manual and easier to build layout. Output iron is the same OT-2 as used in the Stereomour II . . . (see 'In Depth' below)
In Depth
The S.E.X. 3.0 Kit will run any dynamic headphones – even AKG K1000s & Audeze LCD-2s – to great effect. The updated S.E.X. Kit has the following improvements: The new PT-10 power transformer has a single high voltage secondary that feeds a pseudo dual mono supply, and an improved internal shielding arrangement. There is a center tap on the heater secondary. HV secondary is rated 150V and 70mADC when configured into a voltage doubler supply and the heater secondary is rated 6.3V 3.5Arms. It is the same form factor as the PT-3 and PT-5. The primary side of the transformer can be configured for a variety of international voltages. The output iron is the same OT-2 as used in the Stereomour and S.E.X. 2.1. With this bigger and more sophisticated iron one should experience much better bass performance than the old Specos gave.
The power supply is simpler to build and this should reduce the assembly time
Hookup wires have been carefully selected for higher quality, easier building, and easier troubleshooting
The headphone jack is the shorting type that will cut the signal to the speakers when you plug in headphones
The mounting hole for the volume pot has been slightly modified to accommodate a Goldpoint attenuator, for those who wish to update the stock pot on their own (note: a C4S upgrade option will be coming soon)
Were you looking at the Crack kit, but you don't have high impedance headphones? The S.E.X. kit is perfect for lower impedance headphones like Grados and Sonys. Listeners are liking them with high impedance headphones too. In late 1994 a small group of experimenters from a Puget Sound area vacuum tube audio club known as VALVE, among them Dan "Dr. Bottlehead" Schmalle, Paul "Brainiac" Joppa, and Dave "Full Track" Dintenfass, spent a Sunday afternoon building a simple one tube single ended amplifier, the original "spud amp" (being a one-tuber, you see). Expectations were not high for the sound quality, the intention was to build as simple an amplifier as possible and see if it made sound. The result was absolutely confounding. The guys in the listening room/lab who threw the circuit together in 45 minutes couldn't believe that it not only made sound, but it made great single ended triode sound! At the time single ended triode tube amps were considered a screwball cult thing by most conservative mainstream audiophiles. But there were those adventurous souls who wanted to try the SET sound for themselves and see what all the buzz was about. The few commercial SE amps available were expensive. Doc looked at the parts count, figured a large part of the cost was going into machined aluminum front panels, rare and expensive vacuum tubes and boutique electronic parts. He decided he could put together a simple kit based on the "spud" experiment, that was reasonably priced yet captured the lifelike essence of the single ended triode. And the original Single Ended eXperimenter's amplifier kit was born. Within a few months the biggest problem of the new business was keeping up with orders made by audio experimenters eager to learn about the single ended triode sound. The success of the original S.E.X. kit led to the development of a full line of tube electronic kits and the growth of the innovative and influential Bottlehead Corp. over the next decade.
Fast forward ten years
Having worked together on successful designs for everyone from novice kit builders to Grammy award winning mastering engineers, Doc and PJ are reminiscing about the now retired S.E.X. amp over cocktails. The discussion runs to how much the two have learned about tube audio design over the years. The natural progression of the conversation leads to ideas about what a 2004 version of the S.E.X. amp would be like. Before the evening is over the new S.E.X. amp project is agreed upon in earnest, the result being the hugely successful S.E.X. 2.0 and 2.1 variants. FF again to 2016 and the project has evolved into S.E.X. 3.0
The new S.E.X. 3.0 amp
The S.E.X. 3.0 kit is a stereo integrated single ended triode (SET) amplifier of 2 watts per channel output. The two stage zero feedback RC coupled circuit uses parallel feed (a.k.a. parafeed) output, a topology championed for use in modern single ended amplifiers by Bottlehead and MagneQuest
Parafeed output assures articulate, musical bass, great high frequency extension and minimizes the influence of the power supply on the sound.
The pseudo dual mono power supply uses separate power supply filters from a single power transformer for separate yet economical power to each channel. The new PT-10 transformer incorporates a new internal shielding scheme for even quieter performance.
A Schottky rectified DC heater supply and careful high voltage power supply design using custom Bottlehead power transformer and plate loading chokes assures an exceedingly low noise floor, around 83dB S/N – with zero feedback!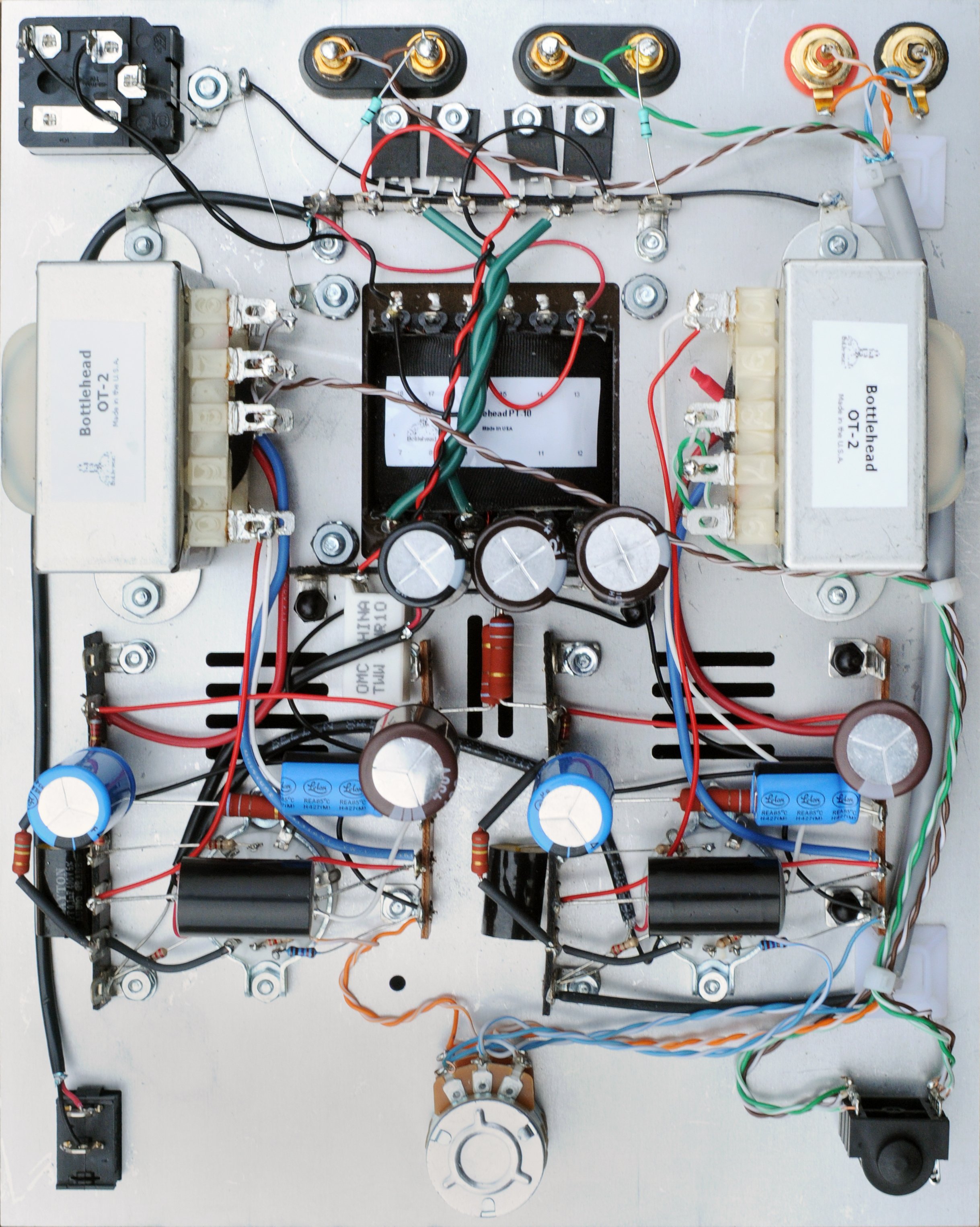 The combination of low noise and ample transformer coupled output drive means the S.E.X. amp is perfect for use both as a loudspeaker amp and as a headphone amp, It works great with high efficiency (97 dB or higher) speakers for listening room systems that work well with similarly powered 45 amps, and practically begs to be plugged into computer sound cards and smaller speakers for desktop audio systems. The exceptional low noise performance means that it works well with headphones of virtually any impedance. The integral level control makes a very simple system possible. Only the addition of a source (CD player, portable disc player, Ipod, sound card, phono preamp, tuner, etc.) and speakers or headphones is needed to get the three dimensional, highly resolved sound of single ended triodes. And remember that the "X" stands for eXperimenter! The kit comes with 6FJ7 dual triode tubes. While designed as an integrated amplifier the kit could be converted to use as a low output impedance line stage, a 4 watt parallel single ended monoblock amplifier, a 2watt single channel monoblock amplifier with shunt regulated power, and the hardcore eXperimenter might even convert it into a 10 watt push pull class AB monoblock amplifier! The Bottlehead community is composed of highly creative individuals and you can find a smorgasbord of mod ideas for this kit on the Bottlehead Forum. We also plan to have some of our own upgrade options available in the future, making the S.E.X. kit one of the most versatile SE amp kits in existence. The kit assembles on a 10″X8″x.080″ brushed aluminum chassis plate and comes with a beautiful Pacific Northwest alder wood base kit that you can assemble and finish to taste. RCA jacks are high quality gold plated, and the binding posts are durable color coded dual units. The 1/4″ stereo headphone jack is by Neutrik. This kit also employs a fused power entry module that allows the use of IEC terminated power cords. A standard North American IEC type cord is included and you can try out our Bottlehead Power Cord and your own experimental power cords as well. International customers will need to provide their own power cable. Wiring is entirely point to point. The amplifier's power output is approximately 2 watts RMS per channel at 10% THD at 500Hz, similar to a single ended 45 tube amplifier. Frequency response at 1V output is -3dB at 27Hz and 22kHz. The amplifier has an input sensitivity of .62V RMS and a gain of approximately 15 dB at 1 kHz. Input impedance is 100Kohms. This is what we call a Skill Level 1.5 kit. Assembly is a one or two evening affair, designed for the builder with a little or (if you are patient and willing to carefully follow directions) no kit assembly experience. A very thorough assembly manual (the S.E.X. Manual) is included in Adobe PDF format, containing step by step printed instructions you check off as you work, detailed photos of the chassis underside and components, and a thorough checkout procedure. All the builder needs to supply is solder. As with our other kits the Bottlehead Forum serves as the builder's online tech support resource, with dozens of experienced builders participating to help you with your questions.
Impressions
"Just wanted to share some thoughts on the SEX amp after completing the build in March (3rd build after Crack and Eros II).
I built the SEX primarily to use in my home office, near-field through Overnight Sensations connected to my PC (Asus Essence STX II soundcard). The decision was also driven by musings elsewhere on this forum about whether to go all tube and replace my solid state gear in my main system. PB recommended the SEX as a good way to test the SET sound before making the leap untested on more expensive amplifiers.
In the 4 months I have been listening to the SEX, I have absolutely loved it for all sorts of music and it has had more use tham my main system. What a great amplifier! A really clean sound with great seperation and what is really noticeable, is the depth of the sound stage. Not sure I was expecting this with near-field listening. I also listen through HD800s headphones so the SEX has been the perfect choice for the office. For anyone thinking of buying, I cannot recommend this fantastic little amp enough.
More recently, I had reason to plug it into my main system (trying to find source of hum in Eros – another thread).
First off, I made the mistake of turning it all the way up so I could hear the same hum, after all, how loud can 2.5 watts be? My listening position is only 9 feet from the speakers. Unfortunately, so was my wife, engrossed in a book. Oops. She almost jumped out of her chair. It's plenty loud for most listening situations (also confirmed that hum was greatly reduced). In terms of sound quality, I am hesitant to use words such as better or worse when discussing subjective topics but there was definitely much that I preferred. There was no discernible loss of detail or seperation and the depth actually seemed greater. The thing that really stood out, though, was the naturalness of voices and instruments, especially when paired with the Eros and vinyl. Whilst the SEX did perhaps suffer from being underpowered in comparison to my solid state gear (less weight to the bass at times but 4ohm tap into 8ohm speakers might explain this?) I have heard enough to convince me that the switch to tube with Kaiju and BeePre is next. This is not where I expected to be a little over 18 months after building the Crack so some work required on the rack to make space (I have a question I will post on the Kaiju board before pulling the trigger). I have loved building the kits, love listening to them more, and am looking forward to next steps.
Not sure if my experience is interesting or helpful to anyone sitting on the fence but, despite my reservations about using the word 'better', I can definitely say without hesitation that the SEX will be better than you expect. Much better. I hope it is not taken the wrong way when I say it is surprising how good it is given the cost when compared to other quality hifi gear.
With thanks and appreciation to all the BH team, I leave you with a pic of my workspace which has now been converted from 'enforced working from home hell' to a place I can happily just sit and listen to music when I need a break.
Or even when I just want to relax with a beer. Like now."
Chris H – Bottlehead Forum
"The S.E.X. is a SUPERB amplifier, extremely quiet, has great tonal definition and imaging, and a listen all day quality that's very beguiling."
–Jeff Poth, Enjoy the Music DIY
"The HD800. To my ears, they are the most speaker like and the soundstage was absolutely huge. I had the pleasure of listening to them on the Doc's tape rig coming out the heavily modded S.E.X and damn! I can now hear why analog has such a strong hold within the audiophile community."
— HeadFi member alphaphoenix, on the HeadFi forum