Mainline 1.1 Headphone Amplifier Kit
Mainline is our most premium headphone amp kit. Excellent with both high and low impedance headphones, the 6C45pi tubes it uses make it highly resolving with a neutral sound signature that is popular among recording industry professionals. And it has the natural, relaxed sound that you can only get from tubes. Great for "deep listening".
It typically takes anywhere from a day to a couple of weeks to get your kit ready to ship.
Quick Description
Output power is about 600mW. Input impedance is 25Kohms minimum. Gain is around 12dB into 32 ohm headphones at the low impedance output setting. We have used the amp with everything from low impedance Grados to high impedance Sennheisers and even power hungry Audeze phones. They all sound great.
In Depth
Two Bottlehead headphone amps have left an indelible impression on the headphone industry over the past few years. The S.E.X. amp opened the way for someone with efficient speakers to make the transition to the ever growing range of great headphones available, having the best of both worlds in one Single Ended Triode amp. Meanwhile the Crack OTL (output transformerless) headphone amp has set a new standard for exceptional sonic performance from high impedance headphones at budget prices.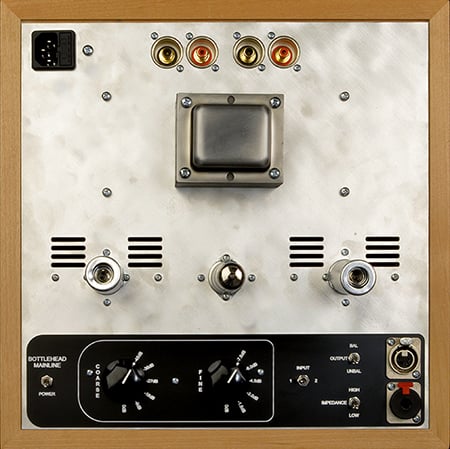 Last year we retired the premium Smack headphone amp kit. There were a lot of really sophisticated aspects to that kit- adjustable output impedance to handle a wide range of headphones, both single ended and balanced headphone output, a single gain stage circuit with active loading and hybrid shunt regulation, and very good transformers. And very good sound – Doc B. thought it was clearly our best sounding headphone amp at the time. Unfortunately for Smack we revamped the S.E.X. kit and in doing so came up with an amp that pretty closely matched Smack sonically and offered enough power (2W!) to run tough cans like LCDs, HEs and K1Ks, that had become very popular. Smack's lower gain and 1/10 the power output was a compromise in the name of greater resolution and speed and more quiet operation. And we somewhat compromised the kit with a very functional but standard stereo volume pot to keep the price down.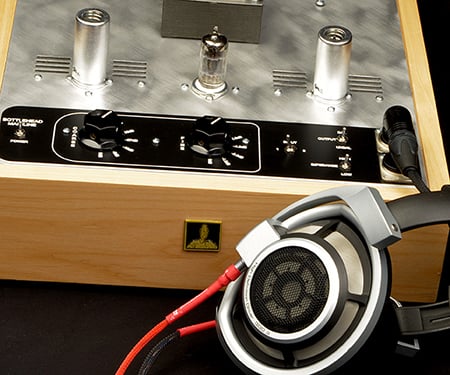 Killer with HD800s, as well as Audeze and HiFiMAN
So we decided to rethink the concept of a more premium headphone amp. We wanted to keep the positive aspects mentioned above, and we wanted a bit more gain and more power, and a better attenuator up front for increased resolution. We also had heard a lot of customers ask for extra inputs and a reworked impedance switching setup that avoided turning the amp off and going inside to adjust output impedance and balanced/SE output.
And so here you see a photo of the functional prototype of Mainline, our new premium headphone amp. It uses 6C45pis as the power tubes and a 12AU7 as the two channel hybrid shunt voltage regulator, which is fed by a CRCRC power supply using Cree high voltage Schottky rectifiers . The 6C45s and the shunt regulator are both loaded with C4S active loads. The circuit has Zero global negative feedback as usual and parafeed transformer output using the same OT-3 transformer we used in Smack.
There is a switch which sets the output impedance for low or high impedance headphones, one that sets the output to single ended or balanced, and a source selector for two sets of single ended RCA inputs. Output jacks are both from Neutrik – the fancy locking TRS jack that tweakers seem to fancy for their Crack kit, and a four pin XLR wired in the standard AKG K1000 pinout for the balanced jack. The attenuator is the same as used in our Submissive 36 step attenuator with six coarse 9dB steps and six fine 1.5dB steps for a total of 56 dB attenuation. The production version will have a cool acrylic overlay for the controls like our BeePre 300B preamp.
Output power is about 600mW. Input impedance is 25Kohms minimum. Gain is around 12dB into 32 ohm headphones at the low impedance output setting. We have used the amp with everything from low impedance Grados to high impedance Sennheisers and even power hungry Audeze phones. They all sound great.
Bear in mind that at $1199 this is essentially the same concept that we used in a custom $7500 headphone amp that we built 10 years ago. The difference is that Mainline uses high quality current production components like Vishay resistors, Panasonic electrolytic capacitors, Cree Shottky rectifers, rather than super rare and exotic vintage parts. The fact that we've added a few circuit improvements that we've developed over the past ten years to that over the top amp design of ten years ago makes it all the more worthy of your consideration for a headphone amp to complement the quality of your high end headphones.
Impressions
 I'm selling my WA-22 with upgraded tubes – what's the point now that I have built and heard this.  Thanks to everyone for helping me lurk and learn!  This sounds amazing with my Focal Clears and Abyss Diana V2's.  Not enough pizazz for Hifiman Susvara, but neither was the WA-22.  This amplifier is wonderful!  The directions were spot on perfect and any errors were due to a transient lack of attention or skipping a text line or two.  The accompanying pictures were extremely beneficial because by studying them I was able to both better understand the text and see if I missed anything in previous steps.  My first electronic kit of any kind.  Also, the YouTube videos Doc made went a long way.
Jonathan Lesser
Hey folks,
Doc and Eileen sent a Mainline to me in record time during this mess we find ourselves in.
Just finished it tonight, resistance and voltage checks were where they should be so I let warm up for a while, plugged in my HD650's and put on Yoshi Tokyo groove "What is hip?" that Doc recommended in march (excellent group do your self a favor and check them out) and WOW that amp sings beautifully!! Nice and quiet, dynamic and powerful. All the positive adjectives you can think of with no pejoratives that I can find.
I was quite skeptical because of the price but rest assured it was money well spent.
Don't know what to do with my Crack now, which is no slouch itself.
Thanks Bottlehead.
Best wishes to all.
Lee
I'm thrilled to report that my Mainline is up and running as of this afternoon, and my early impressions are extremely favorable. Having sat back with my hd800's and listened through a sampling of my favorite tracks this evening (from Oscar Peterson and Jazz at the Pawnshop k2hd to Emma Kirkby and the Choir of St. Martins, and from Alison Krauss to 2Pac) – I have to seriously applaud the team at bottlehead on their new flagship. This amp is technically excellent and thoroughly enjoyable with every genre you can throw at it, and that is most definitely not a statement that I would make about many widely recommended "TOTL" headphone amps.
To provide something a bit more concrete – here are a few preliminary impressions of what I'm hearing in reference to Pierre Fournier's brilliant performance of Bach's Cello Suites. I've probably listened to this album a hundred times on various systems and can't ever recall hearing it sound this good. Transients are simply effortless – so fast and clean. Timbre is rich and lifelike, and the audible micro-detail and texture as Fournier digs deep into the strings on certain notes are absolutely amazing. More generally, on albums across the board, bass presentation is faultless – deep, impactful, and incredibly tight. Possibly the best I've heard from any tube amp? Trebles are detailed and nicely extended, but never strident. For example, I tend to prefer my crack with the anax mod in place. But to my ears, the pairing with the mainline doesn't need it and hd800's have more air without.
From a comparative standpoint, I will always love my crack (an incredible value which will soon take up residence in my office) – but for anyone who has been sitting on the fence awaiting comparisons, be assured that, at least to my ears, the mainline absolutely takes it to the next level.
With another day of listening under my belt, I figured I would offer up some further Mainline impressions – which I have also added into my post (#7) on the first page of the thread. I've also really been enjoying reading all of your respective comments on the Sex + C4S and greatly look forward to Loquah's Mainline vs. Sex head to head once he's got them both sitting side by side.
To my ears, Mainline retains much of what I have come to think of as bottlehead's house signature (fast, dynamic and engaging – making your toes tap – with a hint of tube fullness and warmth – the tubes, in a sense, filling in for the room effects you don't get with headphones). However, in the wake of several years of daily listening to my Crack, Mainline is just incredibly clean and refined in comparison, particularly in its excellent bass response and handling of transients. This is no doubt the result of its ultra highly regulated single gain stage topology and excellent custom output transformers. Based on my recollections from CanJam – I would analogize that mainline is as fast, detailed and dynamic as a Zana Deux (leaving slower "tubier" flagships like the Woo 5 in the dust), but with a slightly sweeter top end. Trumpets can still scream when the source material calls for it, but I can't imagine this amp will ever be characterized as even slightly harsh or piercing – which criticisms are occasionally aimed at the Zana. (I imagine this may mean that mainline has nice low high order distortion – sort of the antithesis of the disproportionate glare folks complain of in SS amps with lots of global feedback?) In any event, these positive qualities essentially mean that the mainline is a perfect match for hd800's to my ears. Even when listening to very simple music (i.e. the Wailin Jenny's – the Parting Glass), the incredibly clean separation between voices is an obvious improvement over other amps with which I am familiar and makes vocal harmonies that much more enjoyable. The same obviously applies to fast complex music as well, where the mainline's control and handling of transients is consistently impressive. The more I listen, the more enamored I become.
The amp is up and running and produces beautiful sounds 🙂 Thanks Bottlehead for terrific product and excellent support! -Heorhi Zhyhalko
This amp sounds fantastic! -swich401
Finished my Mainline build a couple of weeks ago, and REALLY enjoying it with NAD Viso headphones. I had previously built 2 Foreplays, a FP3, FP3 C4S upgrade and a Seduction, but hadn't built a BH kit in years. I must say that the clarity of the instructions and pictures in the Mainline manual was absolutely outstanding. By far the best construction manual of ANY kit I have built, and I've built other brands too. If you take your time and go slow, it's hard to make a mistake. Thank you Bottlehead! -dth31
I find the Mainline and S.E.X. both do a great job with the HE-500s … if I was to choose just one amp I would choose the Mainline. -Loquah
finished up my build – sounds fantastic! I only have a few hours in, but love the detail, dynamics and body. I'm driving a pair of T90's. -Mike Ross
I'm now listening to the wonderful sounds of the Mainline! I tested it initially with my Crackheadphones and it made them sound better than they ever have. Next up are my Sennheiser HD800's, then the Beyer T1's and eventually the Alpha Dogs. Thank you to everyone who chimed in to help. This is an awesome community and forum! -dpat1
The amp sounds fantastic. With only a few minutes on it, it's more polite, yet way more powerful than my Crack w/C4S and film output caps.
bernieclub on the Bottlehead Forum
Having had the privilege of listening to a Crack/Speedball amp for a while before building the Mainline I felt that the upgraded Crack sounded very good and a good basis for this comparison.
Well happy to report that after only about 35 to 40 hours of run in, the Mainline is showing that its presentation is more refined in handling mid and high frequency transients without sounding strained, the low end has tighten up to where it has excellent impact and detail.
Just got a Justin Essig built balanced cable for the HD- 800 so will be listening to the Mainline in the balanced mode now.
Thank you Bottlehead for another fine product and the excellent support.
FC
isldkid on the Bottlehead Forum
Quote:
Originally Posted by HiGHFLYiN9
Did anyone have any impressions of the Bottlehead Mainline (headphone amp) prototype they wouldn't mind sharing?
Um, had a chance to listen to it at Bottlehead last week. I am very familiar with all of Bottlehead's headphone amps. Listen to them many times at meets and at Bottleheadquarters. The new amp is the most refined Bottlehead amp to date. It has power but it sooooo easy to listen to. Was listening to it with Hd800's through a mac mini with amarra and Bottlehead dac proto. I was amazed with the sound. Very musical. These guys did their homework.
Your credit card will be charged the day you pre-order (of course we take Paypal too). Delivery of all Bottlehead kits can take up to four weeks, depending upon demand and our vendors' backlog.
Also, check out the great review of Mainline by Loquah over on Head-Fi.
Additional information
| | |
| --- | --- |
| Weight | 17 lbs |
| Dimensions | 14 × 14 × 6 in |