INTRODUCING: S.E.X. 3.0
"The S.E.X. is a SUPERB amplifier, extremely quiet, has great tonal definition and imaging, and a listen all day quality that's very beguiling."
–Jeff Poth, Enjoy the Music DIY
"The HD800. To my ears, they are the most speaker like and the soundstage was absolutely huge. I had the pleasure of listening to them on the Doc's tape rig coming out the heavily modded S.E.X and damn! I can now hear why analog has such a strong hold within the audiophile community."
— HeadFi member alphaphoenix, on the HeadFi forum
The S.E.X. 3.0 Kit will run any dynamic headphones – even AKG K1000s & Audeze LCD-2s – to great effect. The updated S.E.X. Kit has the following improvements:
The new PT-10 power transformer has a single high voltage secondary that feeds a pseudo dual mono supply, and an improved internal shielding arrangement. There is a center tap on the heater secondary. HV secondary is rated 150V and 70mADC when configured into a voltage doubler supply and the heater secondary is rated 6.3V 3.5Arms. It is the same form factor as the PT-3 and PT-5. The primary side of the transformer can be configured for a variety of international voltages.
The output iron is the same OT-2 as used in the Stereomour and S.E.X. 2.1. With this bigger and more sophisticated iron one should experience much better bass performance than the old Specos gave.
The power supply is simpler to build and this should reduce the assembly time
Hookup wires have been carefully selected for higher quality, easier building, and easier troubleshooting
The headphone jack is the shorting type that will cut the signal to the speakers when you plug in headphones
The mounting hole for the volume pot has been slightly modified to accommodate a Goldpoint attenuator, for those who wish to update the stock pot on their own (note: a C4S upgrade option will be coming soon)
Were you looking at the Crack kit, but you don't have high impedance headphones? The S.E.X. kit is perfect for lower impedance headphones like Grados and Sonys. Listeners are liking them with high impedance headphones too.
In late 1994 a small group of experimenters from a Puget Sound area vacuum tube audio club known as VALVE, among them Dan "Dr. Bottlehead" Schmalle, Paul "Brainiac" Joppa, and Dave "Full Track" Dintenfass, spent a Sunday afternoon building a simple one tube single ended amplifier, the original "spud amp" (being a one-tuber, you see). Expectations were not high for the sound quality, the intention was to build as simple an amplifier as possible and see if it made sound. The result was absolutely confounding. The guys in the listening room/lab who threw the circuit together in 45 minutes couldn't believe that it not only made sound, but it made great single ended triode sound!
At the time single ended triode tube amps were considered a screwball cult thing by most conservative mainstream audiophiles. But there were those adventurous souls who wanted to try the SET sound for themselves and see what all the buzz was about. The few commercial SE amps available were expensive. Doc looked at the parts count, figured a large part of the cost was going into machined aluminum front panels, rare and expensive vacuum tubes and boutique electronic parts. He decided he could put together a simple kit based on the "spud" experiment, that was reasonably priced yet captured the lifelike essence of the single ended triode. And the original Single Ended eXperimenter's amplifier kit was born. Within a few months the biggest problem of the new business was keeping up with orders made by audio experimenters eager to learn about the single ended triode sound. The success of the original S.E.X. kit led to the development of a full line of tube electronic kits and the growth of the innovative and influential Bottlehead Corp. over the next decade.
Fast forward ten years
Having worked together on successful designs for everyone from novice kit builders to Grammy award winning mastering engineers, Doc and PJ are reminiscing about the now retired S.E.X. amp over cocktails. The discussion runs to how much the two have learned about tube audio design over the years. The natural progression of the conversation leads to ideas about what a 2004 version of the S.E.X. amp would be like. Before the evening is over the new S.E.X. amp project is agreed upon in earnest, the result being the hugely successful S.E.X. 2.0 and 2.1 variants. FF again to 2016 and the project has evolved into S.E.X. 3.0
The new S.E.X. 3.0 amp
The S.E.X. 3.0 kit is a stereo integrated single ended triode (SET) amplifier of 2 watts per channel output.
The two stage zero feedback RC coupled circuit uses parallel feed (a.k.a. parafeed) output, a topology championed for use in modern single ended amplifiers by Bottlehead and MagneQuest
Parafeed output assures articulate, musical bass, great high frequency extension and minimizes the influence of the power supply on the sound.
The pseudo dual mono power supply uses separate power supply filters from a single power transformer for separate yet economical power to each channel. The new PT-10 transformer incorporates a new internal shielding scheme for even quieter performance.
A Schottky rectified DC heater supply and careful high voltage power supply design using custom Bottlehead power transformer and plate loading chokes assures an exceedingly low noise floor, around 83dB S/N – with zero feedback!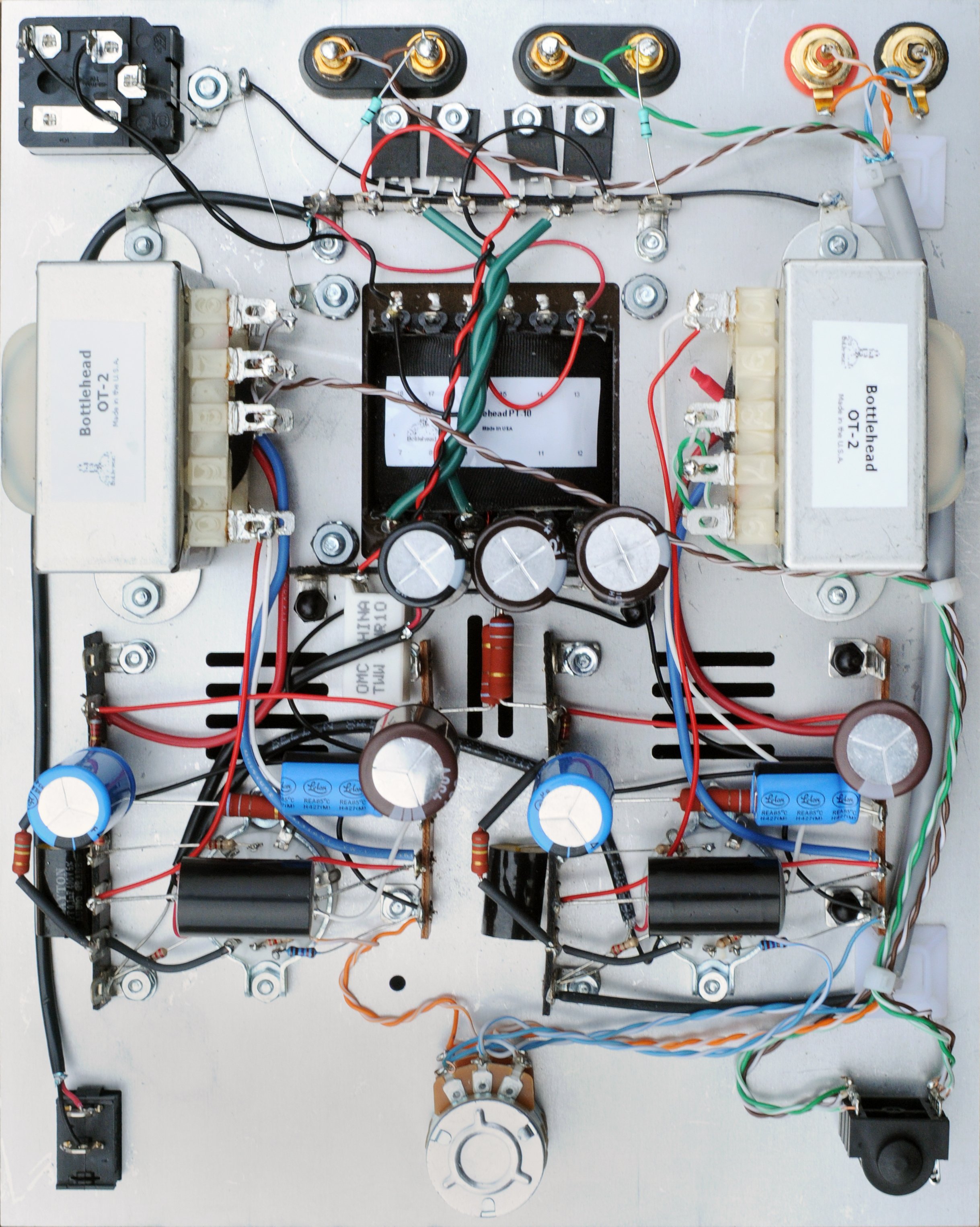 The combination of low noise and ample transformer coupled output drive means the S.E.X. amp is perfect for use both as a loudspeaker amp and as a headphone amp, It works great with high efficiency (97 dB or higher) speakers for listening room systems that work well with similarly powered 45 amps, and practically begs to be plugged into computer sound cards and smaller speakers for desktop audio systems. The exceptional low noise performance means that it works well with headphones of virtually any impedance. The integral level control makes a very simple system possible. Only the addition of a source (CD player, portable disc player, Ipod, sound card, phono preamp, tuner, etc.) and speakers or headphones is needed to get the three dimensional, highly resolved sound of single ended triodes.
And remember that the "X" stands for eXperimenter! The kit comes with 6FJ7 dual triode tubes. While designed as an integrated amplifier the kit could be converted to use as a low output impedance line stage, a 4 watt parallel single ended monoblock amplifier, a 2watt single channel monoblock amplifier with shunt regulated power, and the hardcore eXperimenter might even convert it into a 10 watt push pull class AB monoblock amplifier! The Bottlehead community is composed of highly creative individuals and you can find a smorgasbord of mod ideas for this kit on the Bottlehead Forum. We also plan to have some of our own upgrade options available in the future, making the S.E.X. kit one of the most versatile SE amp kits in existence.
The kit assembles on a 10″X8″x.080″ brushed aluminum chassis plate and comes with a beautiful Pacific Northwest alder wood base kit that you can assemble and finish to taste. RCA jacks are high quality gold plated, and the binding posts are durable color coded dual units. The 1/4″ stereo headphone jack is by Neutrik. This kit also employs a fused power entry module that allows the use of IEC terminated power cords. A standard North American IEC type cord is included and you can try out our Bottlehead Power Cord and your own experimental power cords as well. International customers will need to provide their own power cable. Wiring is entirely point to point.
The amplifier's power output is approximately 2 watts RMS per channel at 10% THD at 500Hz, similar to a single ended 45 tube amplifier. Frequency response at 1V output is -3dB at 27Hz and 22kHz. The amplifier has an input sensitivity of .62V RMS and a gain of approximately 15 dB at 1 kHz. Input impedance is 100Kohms.
This is what we call a Skill Level 1.5 kit. Assembly is a one or two evening affair, designed for the builder with a little or (if you are patient and willing to carefully follow directions) no kit assembly experience. A very thorough assembly manual (the S.E.X. Manual) is included in Adobe PDF format, containing step by step printed instructions you check off as you work, detailed photos of the chassis underside and components, and a thorough checkout procedure.
All the builder needs to supply is solder. As with our other kits the Bottlehead Forum serves as the builder's online tech support resource, with dozens of experienced builders participating to help you with your questions.
Recommended speakers for listening rooms:

A S.E.X.y DIY speaker system to go with your S.E.X. kit!
A bit more advanced DIY speaker project called the Climax
The S.E.X. kit should work well with speakers of sensitivity in the 95dB range or higher. Here are a few other higher efficiency speakers that we've heard and liked-
Orca – Clark Blumenstein is our new best hope in a world where after 17 years we still struggle to come up with SE friendly speaker recommendations. The S.E.X. 3.0 and Clark's speakers are made for each other. No really, Clark uses our amps!
Alerion – Jon VerHalen's Alerion is a delightful surprise, a small Lowther speaker design that sounds really good – good enough that pair resides at Chateau Bottlehead, driven by a S.E.X. kit. The Medallion and Big Fun designs should work very well too.
Of course the big horn based Altec systems will work well too, from the classic A7s and Valencias to John Tucker's awesome 21st century adaptation, the Exemplar Horn.
Klipsch speakers like the Heresy, Cornwall, LaScala and Klipschorn should work very well.
And DIYers should be sure to check out Fullrangedriver.com for some great project speakers.
Recommended speakers for near field listening:
When the listening distance is close, like in a computer sound setup, you can use just about any speaker. Even lower sensitivity mini monitors will sound great up close. Blumenstein Ultra-Fi Orcas are our faves for this app. They are truly amazing.
Recommended headphones:
Most any dynamic headphones with a standard TRS plug will work with the S.E.X. amp – Sennheiser, Grado, Beyer Dynamic, Sony, AKG, etc. The S.E.X. is particularly adept at driving picky headphones like AKG K1000s, Audeze LCD-2s and the Hi-Fiman headphones.
Impressions:
Greetings.
I was testing a new speaker design, and it was a bit flat and lifeless. So I swapped out several amps, and was pleased that the speaker at least reflects exactly what amp is being used. As it happens, the S.E.X. came out the best sounding by a mile, but I'm at a loss to describe it.
The sound was strangely pure, immediate, musical, lively, kind of "3D" and the speakers did disappear nicely, but it wasn't simply an imaging trick. It was "organic" and not "mechanical", instantly "addicting" but I hate to use those overused audiophile terms because they are applied to everything.
So I don't know how to properly describe this "difference" except negatively, by noting how the other amps are worse. The worst of the amps (which is not a bad amp per se – not at all) was comparatively lifeless, boring, harsh in the midrange, and grating on the ears — but only in -comparison- to the S.E.X. which just outperforms it in sound quality.
So how do I describe this sound quality? I don't want to say "warm and tube-y" or "lush" or "romantic" or "colored," because the truth is it -doesn't- sound colored to me. I'd say "transparent" and "barely there," except those terms don't mean anything. It's exciting and engaging to hear, and not by some small audiophile margin.
–rjbond3rd on the Bottlehead Forum
Just wanted to let everyone know the SEX 2.1 is working out great driving Hifiman HE-500 phones. Plenty of power and killer sound.
–ToddR on the Bottlehead Forum
Saturday morning opera and a 6DN7 S.E.X. amp
I was eating breakfast this morning and listening to the opera Carmen on the radio through my Bottlehead amp. Suddenly one of the characters who had been lurking in the background moved to the front and surprised the woman singing which scared the crap out of me. It was as if he was in the room belting it out. I literally jumped in my chair. Great stuff!
It's been about a year with the amp and I still love this little beast. In fact I've listened to some push pull amps as a possible replacement but they never seem to do classical music as well as my Bottlehead amp.
An insanely great product. If you're sitting on the fence about getting one, just do it, get your name on the list. Your ears and brain will thank you! BTW my amp is bone stock and I doubt I'll change it as I'm so in love with the sound.
Have a great weekend lads….
Newbie – SEX as dedicated headphone amp?
Posted by Valvefan on September 20, 2007 at 13:37:54
Hi,
This is my first post. I just discovered Bottlehead online.
I'm looking for a headphone amp with SET magic. I'm currently using Senn 600 'phones and a Headroom Home solid state headphone amp. I'm going to need to do more of my listening on 'phones in the future (family situation changing) so I want a luxury headphone amp. The associated gear will be a Linn Ikemi CDP, BelCanto DAC2 and Blue Circle BC3 (tube) Preamp.
I would appreciate any advice that SEX owners could provide.
Do you think that the SEX is the right choice for this system?
Thanks for your help!
RE: Newbie – SEX as dedicated headphone amp?
Posted by Paully on September 20, 2007 at 13:57:46
I have loved mine with Sennheisers. Not as a good a Sennheisers as you have but I can only tell you that the sound is marvelous and it is a really good headphone amp. I think you would be quite happy.
RE: Newbie – SEX as dedicated headphone amp?
Posted by tubejack on September 20, 2007 at 14:54:19
Highly recommended for the Senn600.
I have an Enhanced SEX which I use with Senn600's. Modded with a Goldpoint stereo attenuator and silver Vcaps (which I like better over the Clarity or MusicCaps I tried). I run a Benchmark DAC-1 and vinyl through a modified C4S'd Seduction and Jupiter caps.
Much to my surprise, the biggest improvement was upgrading the Senn cable to the Bottleheadphone cable. I'm not a big cable tweaker, but the change was a significant improvement over the stock cable.
SEX + Senns = eargasm
Posted by caffeinator on September 20, 2007 at 18:00:00
The Senns seem to be a perfect match for the SEX amp. The Bottle headphone cable is a nice upgrade – as I've mentioned many a time, though my ears are not good enough to appreciate the difference, the extra body (stiffness) of the bottleheadphone cable helps to keep it from getting wrapped around the axles of my desk chair wheels, which was a definite problem with the very flexible (flaccid might be going too far) stock Senn cable.
I have the Enhanced SEX, bottleheadphone cable, and Senn 600's – my front end components are very pedestrian, but the SEX seems to relieve their limitations.
RE: Newbie – SEX as dedicated headphone amp?
Posted by jtkarma on September 20, 2007 at 21:04:34
I use my 6DN7 amp as a headphone amp and integrated amp. It has to be the best bargain in all of audio. I've run mine just about everyday since I built it at the end of last year. Takes about two nights to build and the instructions are fantastic. I will never give away or sell this amp.
Your equipment is much better than mine so I'm sure you'll have an even better experience.
Good luck with your decision.
SEX amp is a good choice.
Posted by Mossback on September 21, 2007 at 00:59:59
The Sennheiser HD600 with a SEX amp is excellent. We share the same situation young children. My HD600's have a couple thousand hours on them now. I have heard and owned many of the Head-Fi "flavors of the month" amps IMO the SEX amp betters most of them. Simple fact, for the money the SEX amp is in a league of its own. The MagneQuest iron with the C4S load boards takes the kit to another level, a very worthwhile addition. Upgrading to Bottlehead cables is a significant improvement as the stock HD600 cables are the weak link. I bought the Stefan Audioart Equinox cables in 2002. When Doc offered his cables we compared the two. I was unable to distinguish any difference.
Thanks!
Posted by rchristie on September 08, 2007 at 05:08:53
Just a quick note of thanks to Doc, Paul, Eileen, and the Bottlehead community. I have recently completed the SEX kit, playing now through SEXy speakers, my first foray into the world of tubes. Beautiful kit you've pulled together, and if I can tear myself away from my listening room here, I may even get to work on the FPIII still in the box upstairs.
But for now, I'm hearing all sorts of things I never realized were there, be it in the bongos of Jaco Pastorius' Donna Lee, the bowing of Janos Starker's Bach Cello Suites, Peggy Lee's voice on Black Coffee, or the jaw-dropping percussion on Wynton Marsalis' Flight of the Bumblebee.
The only issue seems to be physiological; it can be a bit difficult when listening to things that are at the same time heart-stopping and breath-taking.
Again thanks, and looking forward to many hours of happy listening.