MonAmour 2A3 monoblock amps kit
THIS KIT HAS BEEN RETIRED AS OF JANUARY 16, 2023
"WOW!!!!
Tonight I finished up the amps and just got through about an hour of low volume listening (because everyone else in the house is in bed already). I am already totally blown away by the improvement in my system. I am upgrading from a pair of Amp Camp Amp Class A solid state mono blocks that were very enjoyable build projects, and until about an hour ago, I thought sounded great. The step up in performance, even with "fresh out of the box" MonAmour amps with zero hours on them is frankly amazing. I can't really put my finger on anything specifically yet but they just do more of everything and better. The system is very musical and I found myself skipping through various favorite tracks and just grinning like a fool when I hear tracks I've heard countless times before but they are just better than I've ever heard.
Will get some more time on the amps and provide some more detailed feedback, but so far I am beyond impressed by what you guys have designed in this kit."
Additional information
| | |
| --- | --- |
| Weight | 36 lbs |
| Dimensions | 24 × 12 × 12 in |
Quick Description
Mon Amour – my love
We think you will love this latest generation of our classic Paramour 2A3 amp circuit. We pulled out the stops on this version after the Bottlehead community asked us to bring back 2A3 monoblocks. It uses the big iron from our premium Kaiju 300B stereo amp and makes almost as much power as Kaiju with some of the newer 2A3 tubes in production.
In Depth
By popular request! MonAmour is our finest high quality single ended, parallel feed, directly heated triode monoblocks pair amplifier kit, with a capability of 4.5 watts output per channel with vintage 2A3s and up to as high as 7 watts output with modern 2A3s like the JJ2A3-40 and Sovtek 2A3.
Switchable Power Levels
The power output of the amps is selected by a switch which controls the operating current of the 2A3 tube. At a stress free 50mA operating point MonAmour will allow long life operation of classic vintage 2A3 tubes like RCA and Raytheon biplates as well as any other 2A3, yielding about 4.5 watts output. This is a great setup for speakers of 96dB or greater sensitivity. Switching to a 60mA operating point is possible, and if using the newer 2a3 types like the Sovtek 2A3 or JJ 2A3-40 one can see 6.6 and 7 watts respectively and ample output is possible with speakers into the 94dB sensitivity range – including our own Jager kit loudspeaker. They will also sound great with lower sensitivity nearfield speakers like the Blumenstein Orcas. Conversion from one output power level to the other is achieved with the flick of a switch and the operating current is monitored with a meter. Set either way you get the articulate bass, sweet midrange and extended treble that parallel feed, active loaded and shunt regulated Bottlehead products are known for.
The Circuit
The input stage uses a 5670/2C51/WE396A tube, just like our Kaiju 300B amp. The 5670 is a very sweet sounding, particularly linear tube (important when using an output tube as linear as the 2A3) There's enough variety of brands to make tube rolling interesting and it is not prohibitively expensive. One half is configured as an actively loaded voltage amplifier using our Camille Cascode Constant Current Source for super quiet, dynamic, linear performance. The other half of the 5670 operates as an actively loaded hybrid shunt regulator for the voltage amplifier, giving the driver stage great extension of both bass and treble information.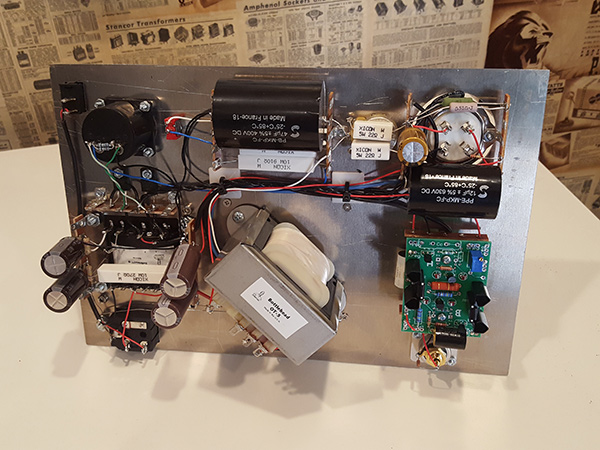 A custom Bottlehead plate choke loads the output tube and the output is via a high quality parallel feed coupling capacitor and custom Bottlehead parallel feed output transformer with 2,4,8 and 16 ohm taps to work with a broad range of speakers. The two amplification stages are R-C coupled. This plate choke and output transformer are the same big and beefy PC-5 configured with a whopping 60H of inductance and wideband OT-5 used in the Kaiju 300B amp, designed by our own Paul Joppa.
The Power Supply
A custom Bottlehead power transformer supplies DC to the 2A3 filaments and high voltage is supplied to the driver stage shunt regulator and the output stage plate choke via smooth sounding Schottky rectifiers and a conservatively designed CRC filter for quiet operation. The noise floor is even lower than our previous premium (and very quiet) 2A3 amp, the Paramount 2A3.
The chassis
The laser cut aluminum chassis is 10″ x 12″ and a hefty .100″ thick. The chassis plate sits in an attractive Pacific Northwest alder wood base that you assemble and finish to taste. All of the inductors are mounted with low noise in mind and the iron on top is dressed up with aluminum covers, resulting in a classic look that highlights the beauty of your glowing tubes. Input, output and power entry jacks are at the rear of the chassis plate. An easily accessible power switch sits at the front of the chassis, and an equally easy to access hum balance pot resides next to the output tube. Prominent at the front is an ammeter for monitoring the 2A3 operating current and the toggle switch that selects the 50/60mA operating current.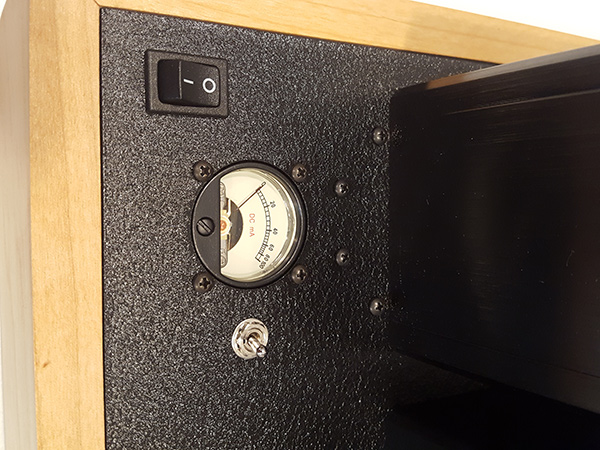 Component quality
Laser cut chassis plates and alder wood base kits are made for us here in the Pacific Northwest. The custom Bottlehead inductors – the finest we have made to date, composed of a universal power transformer and output iron with an audible improvement over the Paramount in bass control and punch – come from Northern California. Rectifiers are Cree high voltage Schottkys. Capacitors are quality brands like Solen polypropylene, and Nichicon electrolytic. Resistors are carefully selected for each application and include 1% metal films for precise voltage and current tolerances, and overrated wirewound resistors for output tube cathode loads. Hookup wire includes both Alpha teflon insulated 22 ga. solid core copper wire for high voltage connections and Belden solid core shielded twisted pair for super quiet heater wiring. Tube sockets are ceramic and input RCA jacks are by Neutrik.
We consider this a Skill Level 3 kit. That means it has some PC boards and lots of parts. It will probably take three or four evenings to complete the kit. It would make a great second kit for more experienced builders, though first timers can complete one as well with the appropriate amount of patience.
Specifications
• Power:
50 mA operating point ~ 4.5 Watts (recommended for vintage 2A3 tubes) @10%THD
60 mA operating point ~ 6.6 Watts with Sovtek 2A3, 7 watts with JJ 2A3-40 @10%THD
• Bandwidth: 11Hz to 34kHz at -3dB
• Sensitivity: Full power at 1.56v
• Gain: About 8 at the 8 ohm output tap (18 dB)
Noise Floor: approx 250uV ripple at 8 ohm output
Impressions
Just circling back to add my impressions of the MonAmours working with the Altec Model 19's: It's a great combination. After a few hours the sound settled in to be holographic and very steady. Great depth. And the depth reveals how far away each individual singer is. I've never heard this before. The voices have air around them. I hear new information on streaming performances I am well familiar with. Everything sounds so relaxed, rounded and smooth. Certainly not "in your face". And this from a horn system.
Surprisingly, the above description even carries over when listening at fairly low levels. I'm very happy with these. Congrats to Bottlehead on a great product.
I finished my MonAmour amps on Tuesday and now have 12 to 15 hours of listening to them. I am upgrading from a pair of 18 year old Paramours with Sovtek 2A3 tubes driven by the BeePree. The biggest difference is how much quieter the new amps are compared to the Paramours. I use Voxativ full range drivers that are 100 db/w efficient and I don't detect a noise floor unless I put my ear to the speaker. Wow! The extra power and clarity are immediately noticeable, even on the lower voltage setting. Everything is bigger, faster, cleaner and extremely engaging. I was correct in figuring the Paramours were the weak link in the system. The MonAmours are a noticeable and significant upgrade. An absolute bargain in the world of vacuum tube audio. Highly recommended.
Few have heard this very new kit yet. Here's the very first impression posted to social media-
"I was able to hold one in my hands Sunday. The MonAmour is heavy! Lot's of iron in this baby. It's a seriously good looking amp the pictures do not do it justice. And…. It has a METER!!!"