Jäger Speaker Kit
$2,799.00
Price is for a pair of speakers, with the including cabinet panels. You get two of everything you see in the product shot. We had a few extra cabinets made in the most recent run and can ship a kit to you as soon as the other parts arrive from our suppliers.
"I finished mine the weekend after Thanksgiving and am about 15-20 hours into the break-in period. But they sound fantastic already."
"The sound is incredible. It really makes some awesome sound, and works amazingly with the Kaiju and the BeePre."
"Realism for live recordings with amazing clarity after breaking in the drivers. I was (and still am) surprised with each listening session how the set really settled in. Amazing overall! It is fun to listen for nuances in my collection now, given the clarity."
"First, and most importantly, the loudspeakers are fantastic! I know a few musicians, producers, and critical listeners. They all are impressed. Drummers, in particular, are drawn to what they claim as wonderful presentation of their instrument. This was expected – all that Bottehead does is excellent…the imaging and detail is excellent without being annoyingly analytical…I have been trying them out in the break in period (they have about 25 hours use,) with all sorts of music – Radka Toneff, dumb-ass psychedelic rock, Ceu, electronica, St. Vincent, Iron Maiden, Frank Zappa, Gordon Lightfoot, Tony Levin; people's (standard?) test pieces (Mo-Fi: Donald Fagen, Carly Simon, Yes, and Megadeth.); a PS Audio compilation release. That is quite a range of music, and Jägers are awesome with all recordings in the literal sense of the word! As a bonus, the loudspeakers do not make terrible recordings….. sound too terrible. For instance, for me, the Chrysalis recordings of Jethro Tull are hard to palate. This may be only me as per complaint, but listening was not typically difficult and disappointing given the greatness of the band's reputation as a live act. I am using an Audio Research tube amp – one that is not very linear with output at low volumes. The speakers come to life at about 75dB on a flat-weighted level/dB meter, earlier than usual for the amp. This is a great level for me, and a bit louder is good fun, of course. I have the backs of the speakers about 3' off of the wall and toed in slightly. It turns out that my living room, with its wood floors, odd shape, walls which don't extend in similar lengths or parallel each other, and which has generally "bouncy" characteristics, "likes" this positioning. This is more of a near-field position and phasing… perfect for the low-level volumes, and (in this setting,) does not muck up the sound with the considerable bass extension of the Jägers."
4 in stock
Jäger Speaker Kit
BRIEF DESCRIPTION
A pair of 2.5 way, 94dB sensitive tower speakers with horn loaded planar tweeter and two 8″ wool/paper cone woofers in separate vented chambers. Biamp-able passive crossover boards with separate internal impedance/baffle step compensation network. Cabinet Q is designed for optimal bass response with the damping factor of low/zero global feedback tube amplifiers.
SPECIFICATIONS
Impedance 8 ohms nominal
Sensitivity 94dB@2.83V/1M
Power handling 80W max (tweeter limited, woofer limit 100W)
Response on axis 37Hz-15kHz +/- 3dB
Acoustic crossover frequency 2800Hz
Dimensions 52.75″ tall, 16″ x 16″ footprint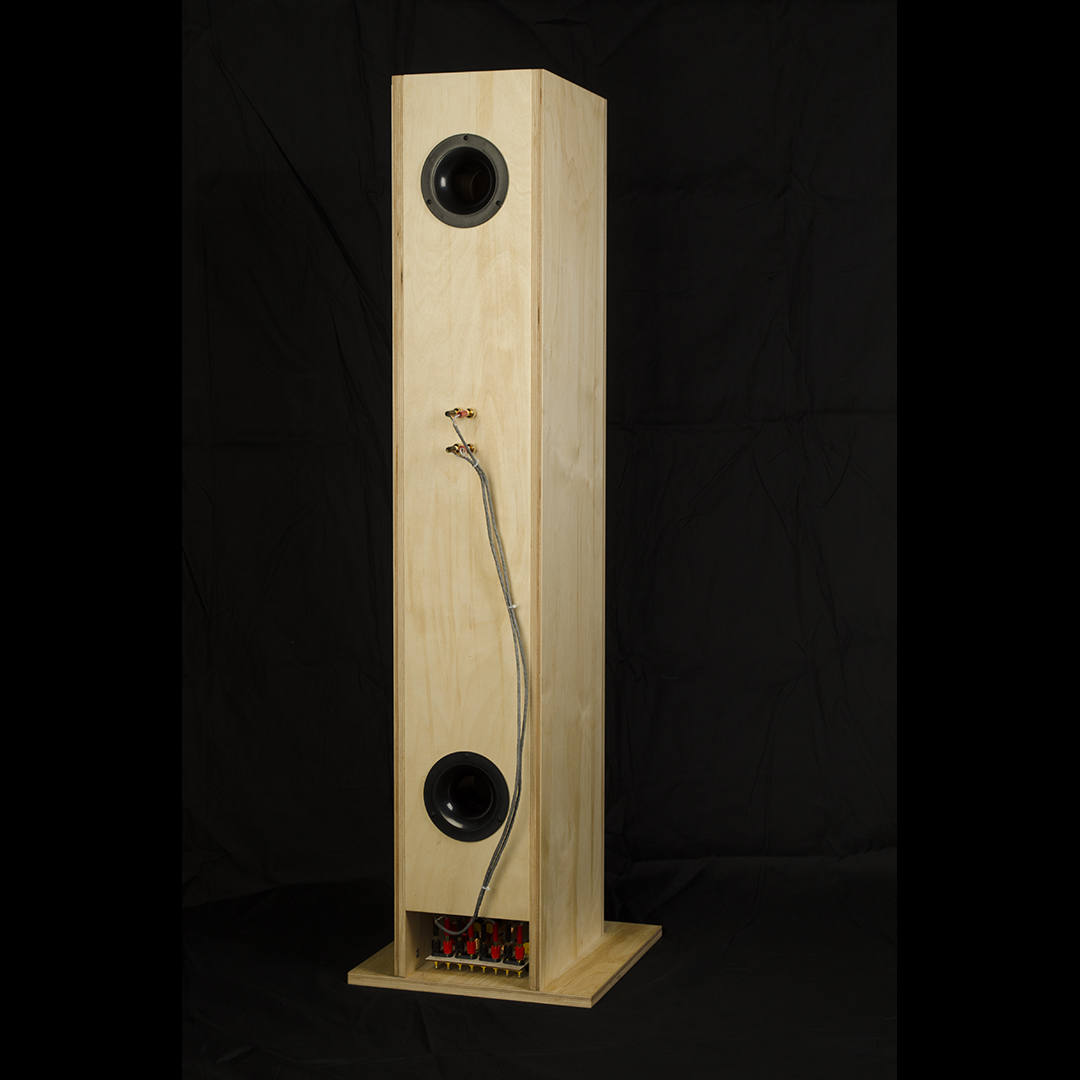 THE STORY
A major challenge of committing to single ended triode sound is finding a speaker that works well with a SET amp in a home environment. As a manufacturer of SET amps for over 20 years we at Bottlehead have tried so many different speakers it makes my head spin recalling them. The traditional approach of using huge, expensive, super efficient horn speakers looks good on paper. But in practice we found that the lack of deep bass, sometimes "down the well" sound and the large inter-driver distances make this kind of speaker more suitable for large rooms like theaters than the typical 12'x18′ living room. Another option is to set up a near field setup with inefficient small speakers. This can work, but typically requires the added complexity of a subwoofer to achieve a satisfying tonal balance. And it won't play very loud without the amp clipping.
In 2008 I needed a system that I could use to evaluate the quality of recordings being released on a new record label I had founded with partners Paul Stubblebine and Michael Romanowski, called the Tape Project. The reel to reel tape recordings made from original masters were being touted as the best sounding format available. From years of working with studios and high end speaker manufacturers who asked us to demo our tapes on their speakers at trade shows, I drew ideas from what I experienced and settled upon a unique solution for my own system. The result was a system that had lovely even response from the low 30s to well above 20kHz, capable of 105dB peaks. But that system required four woofers, a power hungry midrange driver, an expensive ribbon tweeter, an active tube crossover spread across three chassis and up to nine power amplifiers to operate it. It was huge, expensive and required constant maintenance. All that was justifiable for a system being used for studio work, but it had little to do with the real word systems we were selling our kits for.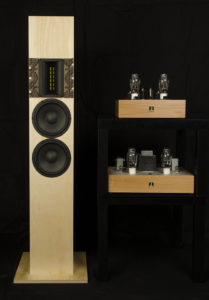 After spending the past few years fleshing out our product line to include three levels of great price/performance amp and preamp kits, it was time to address this speaker issue. We needed a real world speaker that we could use to demonstrate any of our amps, one that would be suitable for a home listening environment. This wasn't our first rodeo. I had put out a modestly successful speaker kit in 2001 called the Straight 8, and we had developed a couple of other designs in later years that, for lack of consistent supply, never made into production. So we had a pretty good database of ideas to draw from, even if some hadn't panned out.
We knew we needed decent speaker sensitivity. Everyone dreams of 100dB+ sensitive speakers. The laws of physics tell us these will need to be huge if they must deliver decent deep bass. Very few people's listening setups are really constrained to 100dB sensitive speakers. If we use the rule of thumb that a speaker needs to be able to hit 102dB peaks to be able to play any kind of music at a volume above which one will damage one's hearing, heck, even for that you only need a couple of watts. As the sensitivity requirement decreases we can reduce the cabinet size to a more room friendly one. With 94dB speaker one can achieve clean peaks of 103dB with 8 watts (think 300B). And one can still get quite loud with even a couple of watts. And so we settled on 94dB @2.83V/1M for our sensitivity goal.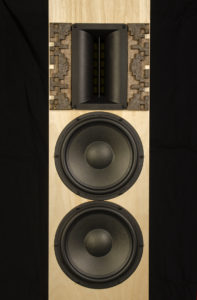 Most of this issue of sensitivity vs. size is relative to bass performance. Tube amps typically have a relatively low damping factor, particularly amps with low or zero global negative feedback. This freedom from feedback is part of what we feel makes the SET sound so eerily real. A few years back Paul Joppa realized that we could adjust the Q of a vented box to take advantage of the low damping factor, and in the process gain about half an octave of deep bass over a box designed with a more traditional Q value. And so we have employed this approach and the Jäger gets down nicely into the mid 30s. To keep those woofers working in the most optimal fashion we have given each one a separate vented chamber.
Another important goal was good imaging. The upper woofer crosses over to the tweeter at 2800Hz, while the lower woofer has a lower crossover point. This shading of the lower woofer helps this by reducing the potential for cancellation effects near the crossover frequency. The relatively narrow vertical dispersion of the tweeter horn and the rather complex felt diffraction panels also help to reduce phase interactions that might spoil the sense of soundstage.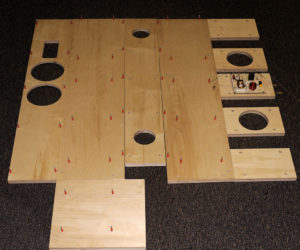 The cabinet material is Baltic birch plywood, with birch edge banding. A lot of theory is bandied about regarding cabinet materials (and just about every other aspect of speaker design). I said the heck with relying upon theory alone, and we built test cabinets in both Baltic birch ply and veneered MDF. The birch speaker was more dynamic, and sounded cleaner, and the added cost was considered worthwhile. The panels are precision CNC'd and assemble with camlock fasteners, just like Ikea furniture but with the addition of wood glue in each seam to make the box air tight. The camlocks assure easy alignment of the panels and good clamping force as the glue dries and a cabinet assembles in just a few minutes. We have had a few requests to sell this kit without cabinets. That's not going to be any more possible than buying a new BMW without the suspension. The panels are a fundamental part of the sonic character and thus there is no way we could guarantee the sonic quality of this speaker if we didn't have supervision over the making of the cabinet. But you do get to choose your favorite way of finishing them. The prototype in the picture was sanded with 220 grit paper, given two coats of Seafin teak oil, sanded with 400 grit paper and buffed to a satiny sheen. It took about 20 minutes and looks and feels great.
The drivers are given extra consideration as well. The tweeter horn is covered with a damping material and the mid-woofers are iso-mounted from the cabinet with rubber. Impedance compensation has been developed for each driver and it lives on a board inside the cabinet. This allows the crossover to be made in a very straight forward manner, the passive one supplied can be updated with an active tube crossover we hope to release in the future. Both impedance and crossover boards are engraved and cut from plywood with our in house laser cutter, and components are attached in the traditional method, soldered to metal eyelets – no PC traces! The passive crossover can be used with a single amp via the use of jumpers, and with the jumpers removed the speaker may be biamped. It fits in a small cubby hole under the speaker, so that it is easily removed for modification or replacement with an active unit. Wiring is all Teflon coated OFC – better known as plenum grade CAT5 cable. Crossover components include air core inductors, polypropylene film capacitors and low inductance resistors.
"I had the good fortune to spend a few hours with Doc at Bottleheadquarters a couple of months ago, just after he installed the impedance compensation networks. We listened to a wide range of music, from just about every source known to Man. We tried good recordings (the Tape Project! OMG!), crappy digital recordings, and everything in between. His new speakers are fantastic.
By that, I don't mean that they made crappy recordings sound good. They are too revealing for that. What they did do, however, was let the music shine through without emphasizing or masking anything. Poor recordings were revealed for what they were, but they were still enjoyable. Good recordings, on the other hand, were unlike anything I've yet heard. One of my favorites is "Saxophone Colossus" from Sonny Rollins. It is one of my reference albums, I know every note and brush stroke, and I listen to it on every system I can. I've never heard it sound this good. The same can be said for every album we tried. Driven by the Stereomour II in Doc's listening room, these speakers kick ass.
For contrast, my personal speakers are my own design/fabrication and are something of a homage to the Omega outlaws. They consist of a Fostex 120a in a sealed volume, rolled off with a single capacitor at around 300hz, driven by my Stereomour. In a separate sealed volume I've got a Dayton sub driven by a Crown XLS1500, digitally crossed over to integrate with the Fostex. At low to medium volumes they sound pretty damned good. Incredibly fast and detailed in the mids, as full range drivers so often are, with gobs of very punchy bass. I've blown the minds of many a visitor with these speakers, and it pains me more than a little to admit that the new Bottleheads are significantly better in every way. All of the detail and articulation, with none of the shout or high-volume breakup I get with mine. The bass is all there and perfectly integrated. Rich and full with no boom.
Am I gushing? Perhaps, but not because I have anything to gain. On the contrary, this is my attempt to give back a bit. I've learned a tremendous amount from this forum and rarely have much to share that any one of you don't already know. In this particular case I'm one of only a few civilians to get my ears on these things so figured I'd give my best attempt at a useful review. If you are in the market for new speakers, I highly recommend giving these a shot."
Mike L. on the Bottlehead forum
Just finished up my pair, and currently listening to "Echoes" by Pink Floyd with a big stupid grin on my face. Even at somewhat reduced volume and just a few minutes of play, they are sounding amazing. A huge step up from my previous speakers, Tekton Mini-Lores. Now I'm running a complete Bottlehead setup with an Eros, BeePre w/BeeQuiet, and a Kaiju with DC Filaments. I can only imagine what adding a second Kaiju would do.
I too was a bit taken aback when I saw the actual size of them. These things are monsters, and definitely overkill in my small listening room. But the soundstage and imaging is impressive so far. I'll keep messing around with placement and toe-in angle, but I'm definitely a happy camper right now.
Rocketman248 on the Bottlehead Forum
12-7-2017 – First kit completion, by pjnestor. Nice job, Pat!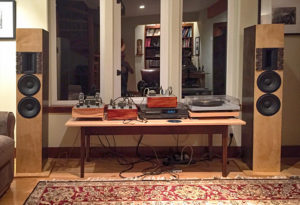 Jägers in the home theater at Chateau Bottlehead
accompanied by a Blumenstein Audio center channel and .1 channel subwoofer, 96 inch screen
The prototype Jägers in our reference system at Bottleheadquarters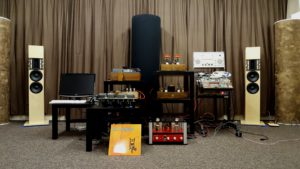 Completion, by bombay317. Tung oil finish.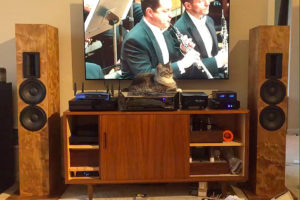 Additional information
| | |
| --- | --- |
| Weight | 45 lbs |
| Dimensions | 20 x 20 x 16 in |